Welcome to Raman Nail Salon in Brampton. We are pioneer in providing Exceptional Nail Art in Brampton using a wide variety of Best Nail Art polishes / Luxury Nail Paints, Glitter Nail Polishes, Nail Stamps, Ceramic Nail Arts which can be customized according to each client needs. We also have variety of moody nail polish that change color with weather. If you are looking for a place where you can get your nails beautifully decorated, you have reached the right place. At RamanSalon & Spa, you will get the best hand and foot care professionals that will completely transform your hands to look superb. To make a Nail Art look good, we have experienced Nail Artist in Brampton who use products like Nail Glue, Stamping Sets, Professional Glitters, Beautiful Stones, Nail Art Pen and much more.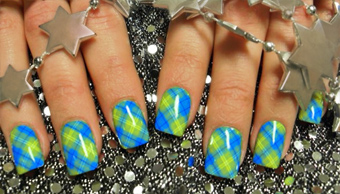 Beauty is not only in the face but also in the hands and feets of the person. A dull looking hand or foot can downgrade the personality of a person. For a women to look extraordinary beautiful, a beautiful hair style, a perfect makeup, beautiful eye makeup, smile on face, beautiful hands and feet and matching clothes are all part of a lovely personality. For a beautiful hands and feet, they need proper care. Hands and feet should be manicured and pedicured and properly nail polished to make them look good. Nail Polishing is just simply applying one single color nail polish which will make hands look lovely but Brampton Nail Art brings a complete change in outlook of the person. A beautiful nail art is always praised by everyone and is eye catchy. Nail Art has become a style statement in Canada and people want their nails to look stunning and attractive to stay one step ahead of others. Nail art can involve use of Artificial Nails / Nail Extensions or stickers or can be done using brush paints.
Party / Special Occasion Nail Art : Experience the party day by a perfect Nail Spa with a custom selection of arts. Enjoy a personalized manicure/pedicure Nail Salon experience that will completely change your looks and will make you feel the center of attraction.
Your BIG DAY / Bridal Nail SPA in Brampton / Wedding Nail Artist : Looking for a complete Nails makeover for your wedding day, come to us and we will give you the finishing touches to make you look even more pretty. Our offer a specialized Bridal Nair Art in Brampton for your beautiful day ahead. Nail Art adds an additional complimentary look to a bridal makeup for the big day.
Regular / Office Style Nail Art : We also do regular Nail Art for professionals that looks inline with the day to day affairs and surrounding environment.
Give us a call today at (905) 799-1015 to book your appointment with our Brampton Nail Artist.